Using innovative hearing instruments to improve the lives of patients with hearing loss is the primary objective of the professionals at Audina. Behind the efforts of a team of highly skilled engineers, tech support professionals, and sales associates committed to product excellence, Audina strives for superior service, unconditional integrity, and customer value in its day-to-day operations.
Leaving research and development to companies like Gennum and RTI, the Audina team is free to focus on customer service and customer support for their wide range of hearing instruments, from entry-level BTEs to advanced digital CIC hearing devices.
Schedule A Hearing
Assessment
"*" indicates required fields
Adjustable WDRC (wide dynamic range compression) channels help to provide greater fitting flexibility and help ensure improved customer satisfaction.
Audina hearing aids feature ultra-high-fidelity audio along with software to moderate loud incoming sounds and improve the listening experience while maintaining speech quality and intelligibility.
Faster convergence speeds coupled with excellent state-of-the-art nanotechnology bandwidth provide more stable gain in low frequencies to produce adaptive feedback cancellation, while adaptive directionality (AD) continuously monitors different listening environments and automatically adjusts to the ideal response to environmental changes.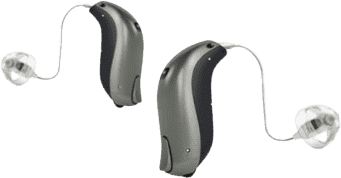 Pulsed ionized gas (plasma) to apply a nanoscopic (1,000 times thinner than a human hair) polymer to the surface of the instrument (known as P2i water resistance) is one of the most advanced-level features of Audina hearing aids.
Audina hearing aids feature lithium-ion rechargeable batteries capable of sustaining a charge for full-day use. RIC, RIC with telecoil, and BTE styles feature True Environment Processing to deliver the most natural sound possible.
Connectivity with iPhone is directly supported by Audina hearing aids, but those with Samsung and other Android devices can add Soundclip-A or the Remotelink App to take advantage of programming, troubleshooting assistance, and ongoing counselling and support from their hearing aid providers.
Hearing Aid Repair Focused on Meeting Your Needs
Audina hearing aids are an advanced technology solution for those experiencing hearing loss. Since our focus is on meeting your needs, we provide troubleshooting, maintenance, and repair for those who wear Audina hearing aids, as well as those with hearing aids manufactured by Beltone, Eargo, Earlens, and others.
One of the main advantages of choosing Smiles from Ear to Hear over an online or OTC hearing aid dispenser is our personalized, family-oriented approach to serving you. The focus of our team is ensuring that you get the most out of your hearing aids with ongoing, trusted, and personalized care, so you achieve better hearing and improve your quality of life.
If you, or a loved one, are struggling to hear the things you love to hear and need some help from a hearing aid technician, or if you want to check out the advanced-technology hearing aids we have available, contact us using the adjacent form.
Ready to elevate your hearing experience with advanced prescription hearing aids? Schedule an appointment with our team of specialists today. They're prepared to walk you through the process of choosing the best hearing aid, tailored to your unique auditory needs and lifestyle.
Don't let the sounds of life pass you by. Click below and take the first step towards an enhanced auditory experience.
"*" indicates required fields