Only a little over 20 years old, Audibel is a relative newcomer to the hearing aid industry. Their simplicity and motivation for producing quality hearing instruments is reflected in their catchy motto: "Helping People Hear. It's the Reason We're Here."
Partnering with Starkey technology, which provides the sound-processing technology, the Audibel brand was developed by a group of independent hearing aid dispensers and audiologists at Hearing Healthcare Centre in Cambridge, Newmarket, and Saffron Walden, UK.
The objective of the group was to develop personalized solutions to compete with bulk-buy and off-the-shelf products that were beginning to flood the industry.
Schedule A Hearing
Assessment
"*" indicates required fields
Audibel hearing aids are equipped with state-of-the-art processing from Starkey Laboratories – high-end technology that delivers outstanding performance and fine-tuning options to address the unique sound needs of hearing aid wearers.
Their receiver-in-the-ear (RITE), behind-the-ear (BTE), and custom in-the-ear (ITE) hearing aid style choices come with brilliant wireless solutions that include wireless microphones and media streamers.
Audibel earned the SXSW interactive innovation award in 2017 and 2022 thanks to these technological advancements.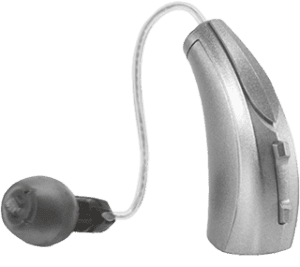 Made-for-iPhone hearing aids, which include "speech confirmation" to boost programming support, are among the most prominent features of Audibel devices. The company uses data gathered to integrate customer feedback into their design and production processes.
Starkey's ThriveCare app, along with connectivity capabilities, facilitates virtual solutions for ongoing counselling and support from your hearing care provider from any location with an internet connection.
Hearing Aid Repair Focused on Meeting Your Needs
Audibel hearing aids are an advanced technology solution for those experiencing hearing loss. Since our focus is on meeting your needs, we provide troubleshooting, maintenance, and repair for those who wear Audibel hearing aids as well as those with hearing aids manufactured by Audina, Beltone, Eargo, and others.
One of the main advantages of choosing Smiles from Ear to Hear over an online or OTC hearing aid dispenser is our personalized, family-oriented approach to serving you. The focus of our team is ensuring that you get the most out of your hearing aids with ongoing, trusted, and personalized care, so you achieve better hearing and improve your quality of life.
If you, or a loved one, are struggling to hear the things you love to hear and need some help from a hearing aid technician, or if you want to check out the advanced-technology hearing aids we have available, contact us using the adjacent form.
Ready to elevate your hearing experience with advanced prescription hearing aids? Schedule an appointment with our team of specialists today. They're prepared to walk you through the process of choosing the best hearing aid, tailored to your unique auditory needs and lifestyle.
Don't let the sounds of life pass you by. Click below and take the first step towards an enhanced auditory experience.
"*" indicates required fields